This is my first book post. I will try to do a post every month to let you know what I'm reading and what I like. Remember, what I like might be very different than what you like. If you have any suggestions for my bookshelf blog please let me know!!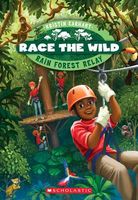 Russell is excited to join a race that travels the entire world!! Even though he doesn't know his teammates he knows that he will be able to do his best to win. When he gets to the first leg of the race, the Amazon, he has to wonder is he really prepared for this amazing race? Will his team be able to work together to not only survive this dangerous game but also to win?
I really enjoyed the creature features. It was fun to learn about animals that are indigenous to the area. I love the idea of a scavenger hunt with clues and pictures. This is a fun read for anyone who has ever had to step outside of your comfort zone.